On his return to the United States, Djokovic is soaking up a new attitude.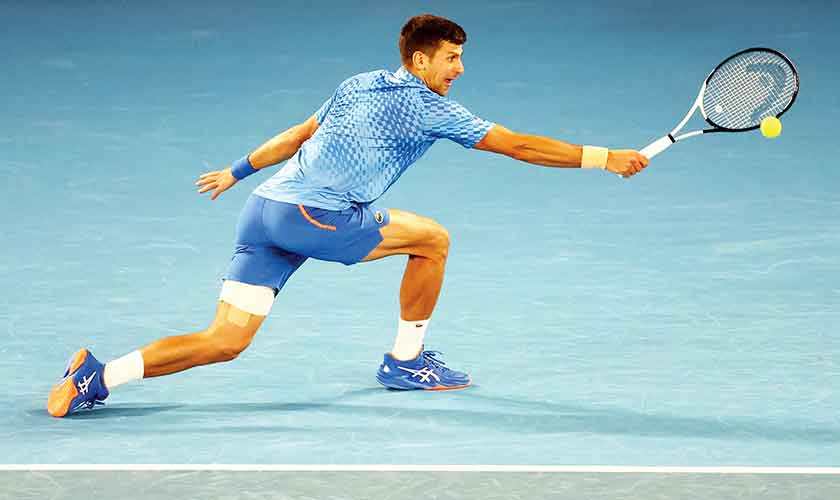 The last time we saw Novak Djokovic play a completed match in the United States, he ended it in tears. He had just lost the 2021 US Open final, and his chance at the Grand Slam, to Daniil Medvedev. But that bitter moment had its sweet side: In his moment of defeat, Djokovic received perhaps the most powerful ovation of his career from the crowd in Arthur Ashe Stadium.
Since then, Djokovic has experienced many things, both good and bad. On the down side, because he refused to have the Covid vaccine, he was expelled from Australia and for a while was reviled around the world. On the plus side, he overtook Rafael Nadal and Roger Federer in their storied Grand Slam championship battle, achieving his ultimate career goal.
Djokovic, no longer banned from the States because of his vaccine status, made his return this past weekend in Cincinnati. The reception was a bit different from the one he received in Australia last January. His practice sessions here attracted standing-room-only audiences. Fans packed every inch, and craned their necks around every corner, for a chance to see him work out.
Even for Djokovic, a 20-year tour veteran, this felt like a new vibe.
"I did experience some tournaments throughout the world, similar atmospheres in terms of the great attendance on the practice courts," Djokovic said. "But I guess, for a while, nothing of this intensity in terms of the presence and the participation of the crowd, on the practice court…The atmosphere was great. People were really into it."
So far the US, and his Western & Southern Open opponents, have been kind to Djokovic. In his first match, Alejandro Davidovich Fokina retired with a back injury after one set. On Thursday, his highly-anticipated night match with Gael Monfils fizzled when Monfils never found a rhythm, or his forehand, and went down quickly and tamely, 6-3, 6-2. Djokovic hasn't had to do a whole lot to reach the quarterfinals.
"I just made him play," he said after improving his record against Monfils to 19-0.
"I guess his game suits me well," he added in one of the polite understatements of the year.
The vibe around Djokovic's season has changed since his loss to Carlos Alcaraz in the Wimbledon final. His bid for the Grand Slam is over, and the air of big-match invincibility that he had built up in Melbourne and Paris has been punctured. He's human again, which means he'll be subject to less hype and pressure-until he builds up that invincible aura once again.
Djokovic has dominated at Wimbledon over the past half decade, but he hasn't had the same success at the US Open. He retired with an injury in 2019, hit a lineswoman with a ball in 2020, was too gassed to beat Medvedev in 2021, and was banned from the U.S. last year. He has won 10 titles from 10 finals at the other hard-court major, in Melbourne, but just three across nine title matches at Flushing Meadows.
Maybe losing in London this time will make him more motivated to win in New York. A 24th major would put him two ahead of Rafael Nadal, who says he'll play his final season in 2024. One more might just seal the men's Slam record for good for Djokovic. It's hard to imagine Rafa winning anywhere other than Roland Garros next year.
"There's still [a] fire going," says Djokovic, who will play Taylor Fritz on Friday night. "There's still that drive and motivation to really come at the biggest events in sport and try to win, 카지노사이트킴 try to win titles and try to bring some good sensation to the crowds."