LG explodes for 3 home runs with two outs in 12th…beats SSG to solidify 1st place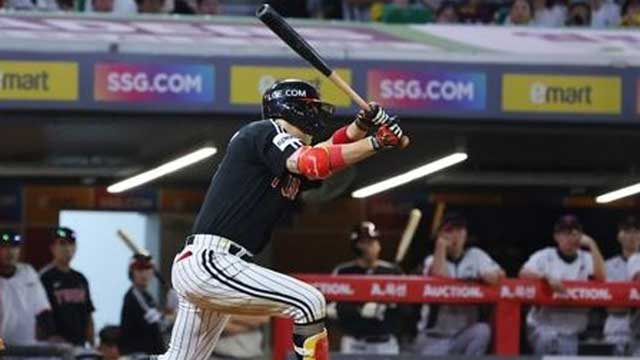 The league-leading LG Twins, looking to win their first regular season title and Korean Series title in 29 years, defeated the second-place SSG Landers in a 12-inning thriller.
LG Twins hit three home runs in the bottom of the 12th inning to beat visiting SSG 8-4 in an extra-inning thriller in the 2023 Shinhan Bank SOL KBO League at SSG Landers Field in Incheon on Monday.
With the win, LG extended its lead over second-place SSG to eight games with 42 games remaining in the regular season.
SSG has lost four straight games.
Up until the middle of the game, SSG controlled the momentum.
In the fourth inning, Choi Joo-hwan hit his 17th three-run home run of the season off LG starter Choi Won-tae, and in the sixth inning, Kang Jin-sung added a sacrifice fly to make it a one-run game.
However, in the seventh inning, LG was hit hard and gave up the tying run.
In particular, on Austin Dean's single to right field with runners on first and second with a 4-2 lead, SSG right fielder Han Yoo-seom made a fatal mistake, spilling the slow-rolling ball behind him.
Heading into extra innings, the game remained scoreless until the 11th, when LG showed how scary "one out" can be in the 12th.
With two outs and no runners on base, Moon Bo-kyung took advantage of Choi Min-joon's errant throw and launched a solo shot over the right field wall.
This was followed by a walk to Moon Sung-joo and a two-run home run by Jung Joo-hyun, and after the pitching change to Lee Irene, Kim Min-sung again drew an arch into the Incheon night sky.
The back-to-back home runs by Jung Ju-hyun and Kim Min-sung were the team's first this season.
SSG's leadoff hitter, Choo Shin-soo, reached base on a bunt in the bottom of the 12th inning, but was left stranded after failing to get a follow-up hit.
In the nightcap, the Hanwha Eagles rode the bat of No. 4 hitter Chae Eun-sung to an 11-6 victory over KT WIZ, ending the latter's bid for a sixth straight win.
After falling behind 0-1 in the second inning on an infield grounder by Lee Do-yoon and an RBI single by Nick Williams, Hanwha scored six runs in the fourth inning to take control of the game.
Trailing 2-4 again, Hanwha scored a run on Moon Hyun-bin's sacrifice fly with the bases loaded in the top of the fourth and then took a 5-4 lead on Noh Si-hwan's RBI double with the bases loaded.
Chae then crushed an outside fastball from reliever Lee Chae-ho for a three-run home run to extend the lead to 8-4. It was Chae's 15th home run of the season.
Chae added another RBI in the bottom of the eighth inning, when she singled through the left side of the infield to cut the deficit to 10-6, giving her four RBIs on the day.
Hanwha starter Moon Dong-joo got some help from his offense to pick up his eighth win of the season after giving up four runs (three earned) on six hits (one home run) on 95 pitches with three walks and two strikeouts in five innings.
KT got a two-run homer from Oh Yoon-seok in the fourth inning and a one-run homer from Jang Jun-won in the sixth inning, but it didn't matter.
KT's Park Byung-ho came in as a pinch-hitter in the eighth inning and hit his 10th home run of the season, making him the 13th player in history to reach double-digit home runs in 11 consecutive seasons.
In Daegu, the Samsung Lions became the first team in the KBO to reach the 5,100-homer plateau with a 12-2 victory over the KIA Tigers.
The Lions, who were 2-8 against Kia before the game, overcame their "tiger phobia" with some hot hitting.
Samsung opened the scoring in the fourth inning with Koo's seventh home run of the season.
Jose Pirela followed with an RBI double to shake off KIA starter Yoon Young-chul.
In the fifth inning, they scored seven runs in a row to extend their lead to 9-0.
With runners on first and second, Pirela hit his 11th three-run home run of the season to make it 8-0.
With the home run, Samsung reached the 5,100-homer milestone for the first time in 42 seasons, dating back to 1982, its first year as a professional organization.
Samsung added RBI singles from Kim Dong-yeop and Kang Min-ho in the seventh inning to make it 12-2.
Koo, who leads the league in batting average, raised his average to .343 with a 2-for-4 performance with a home run and three RBIs.
Pirela also had her second four-hit game of the season.
Samsung starter Taylor Widener pitched six innings of five-hit ball on 104 pitches with seven strikeouts to earn his first win in two games since joining the team.
In Gocheok, the Kiwoom Heroes snapped a two-game losing streak with a 5-4 victory over Lotte, led by a come-from-behind three-run homer by "transfer student" Lee Ju-hyung.
Trailing 2-4 after allowing a run-scoring single to Jeon Jun-woo in the top of the eighth inning, Kiwoom turned the game around with a single by Lee Ju-hyung in the bottom of the inning.
With runners on first and second after leadoff hitter Song Sung-moon singled and Joo Sung-won drew a walk against Lotte's third pitcher Han Hyun-hee, Lee stepped to the plate and pulled a low fastball from Han over the right field wall.
It was the third time this month that Lee has sent a ball over the fence since joining LG in 2020 and moving to Kiwoom, having hit his first professional home run against LG on March 3.
Kiwoom closer Lim Chang-min, who pitched the ninth inning, had runners on first and second with no outs, but he got Yoon Dong-hee to fly out and Kim Min-seok to ground into an infield single to preserve the win.
For Lotte, starter Charlie Barnes gave up two runs (one earned) on seven hits with five strikeouts in six innings, and veterans Ahn Chi-hong and Jeon Jun-woo each had solo efforts, but the team was unable to smile in the loss.
Lotte, which would have clinched a share of first place with a win, saw its four-game winning streak end with a single home run.
The game between the Doosan Bears and NC Dinos, 먹튀검증 which was scheduled to take place at Jamsil Stadium, was canceled due to rain showers just before kickoff.