Lee Kang-in is unsure when to join AG, while Hwang Sun-hong expresses frustration due to the lack of clarity.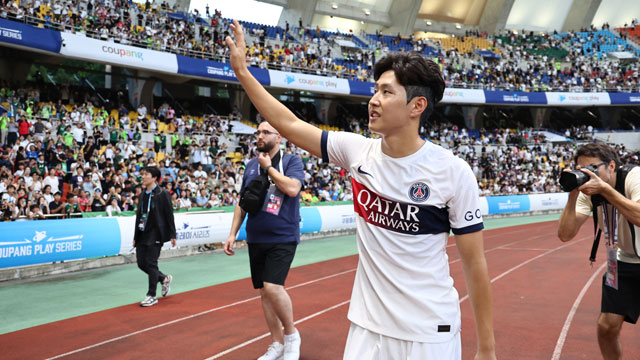 There is still no word on when "ace" Lee Kang-in (Paris Saint-Germain-PSG) will join the men's soccer team for the 22nd Hangzhou Asian Games.
"PSG hasn't officially said when they will send him," Hwang Sun-hong, the head coach of the Asian Games team, told reporters at the National Training Center (NFC) in Paju on Thursday, adding, "He wants to join us as soon as possible, but it's frustrating because there doesn't seem to be much coordination."
Already one of the top stars in the senior national team, with a place at the 2022 World Cup in Qatar, Lee is one of the most sought-after players in soccer ahead of the Asian Games.
After playing for Mallorca, Spain, and French side PSG this season, Lee has recently suffered a series of injuries that have raised concerns about his participation in the Asian Games.
It was announced by his club that he tore his left quadriceps on March 22, and he missed two September A matches in Europe (Wales and Saudi Arabia).
Following his absence from the team's matches, a video of him training with the team on September 12 was released by the club, raising hopes of his return.
PSG was initially expected to communicate its stance on Lee's participation in the Asian Games to the national team on the 13th, and an email from the club on the same day provided an update on Lee's condition, but did not answer the question of when he would join the team, according to the Korea Football Association.
"PSG seems to be putting forward several conditions. It could be the group stage of the Asian Football Confederation (AFC) Asian Cup…," Hwang said, adding, "I hope the negotiations go well and he joins us soon."
The Asian Games is not a mandatory tournament for clubs to release players, so it's up to the clubs to make sure they are available in the run-up to the tournament.
With PSG likely to have to send Lee to the Asian Cup early next year during the season, it could be assumed that the club is trying to delay the decision as long as possible.
"We've done it before, but I think PSG is trying to pull a lot of strings to their advantage, so we need to coordinate," Hwang said.
"Hopefully, I can coordinate with Lee Kang-in for one or two group games. If he joins us after the tournament, there could be various situations," he said, adding, "It's frustrating that we can't make a plan until the timing is decided."
"I only heard that he will not participate in the game on the 16th (Ligue 1 home match against Nice)," he said, adding, "He seems to have recovered from his injury, but I don't think it's a physical issue."
PSG has a home Ligue 1 match against Nice on Sept. 16 at 4 a.m. KST and a UEFA Champions League (UCL) group stage match against Dortmund (Germany) on Sept. 20 at 4 a.m. KST.
"I'm not thinking about it yet," Hwang said of the possibility that Lee won't be able to join the squad, adding, "The federation and the club are in close communication, so I hope it will be decided soon so we can focus on preparing for the tournament."
South Korea, which is in Group E of the Asian Games, will play Kuwait on Sept. 19, Thailand on Sept. 21 and Bahrain on Sept. 24 at the Jinhua Sports Center Stadium in Zhejiang, China.
South Korea will attempt to win its third consecutive Asian Games men's soccer title, following Incheon 2014 and Jakarta-Palembang 2018.
Hwang Sun-hong, who trained in Changwon, Gyeongnam, 온라인카지노 and began his final tune-up in Paju on Sept. 13, will leave for China on Sept. 16.