Masan Yongmago's right-handed pitcher Jang Hyun-seok (19), who is considered a talent in the high school level, continues to think about whether he wants to challenge Major League Baseball (MLB) or enter the KBO.
Jang Hyun-seok took the mound as the second pitcher in the 78th Cheongnyonggi National Baseball Championship and Weekend League Wangjungwang quarterfinals against Jang Chung-go at Mokdong Stadium in Seoul on Thursday.
Entering the game with the bases loaded in the third inning, Jang threw 102 pitches in 6⅔ innings, striking out 14, but his performance was short-lived as his team fell to 2-3.
Jang faced the first batter of the game and gave up a bad throw to first base, followed by a single to Ryu Hyun-jun. However, Jang was not credited with an earned run, as the previous pitcher's runner succeeded him.
From there, however, Jang was like an iron castle. He pitched a scoreless ninth inning with 14 strikeouts. His fastball reached 154 kilometers.
Speaking to the media after the game, Jang said, "I was physically strong in the hot weather, so I tried to adjust by dropping my velocity a bit in the middle. I still haven't perfected my sweeper, but I think I was lucky enough to overcome the opposing batters."
Jang Hyun-seok, who roared loudly at the end of each inning during the game, said, "I don't want to look like my energy is dead, so it's a kind of performance."
One of the biggest stories of the day was the matchup between Jang Hyun-seok and Hwang Jun-seo (Jang Chung-go). Both Jang, who was selected for the Hangzhou Asian Games, and Hwang, who has already shown promise with the youth national team, are considered two of the best pitchers in high school baseball.
Jang Hyun-seok took the mound early and pitched a long inning while his team was losing, while Hwang Jun-seo took the mound in the eighth inning and pitched two innings as if he had the next game in mind.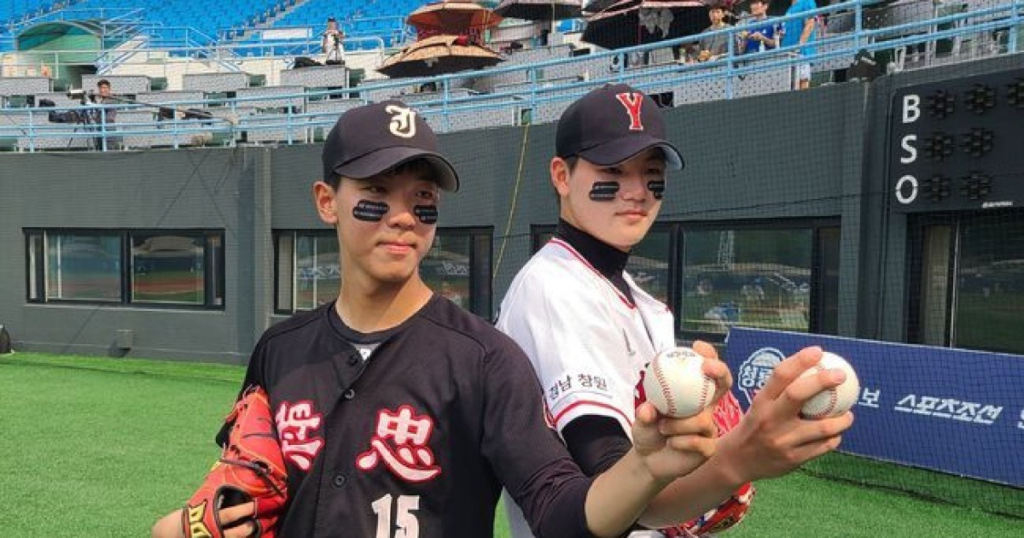 Hwang Jun-seo put runners on first and third with no outs in the eighth inning and allowed two runners to succeed earlier pitcher Cho Dong-wook, but did not give up any more runs to earn the save.
Jang Hyun-seok said, "After the game, I congratulated (Hwang) Jun-seo. He showed a good performance like a youth representative. It was great to see him defend in a crisis situation."
With his proven skills, Jang Hyun-seok is expected to be the first pick in the 2024 KBO Rookie Draft. The 2014 draft, which will be held on September 14, is open until 6 p.m. on August 15.
However, there are some who believe Jang will follow in the footsteps of Shim Jun-seok (Pittsburgh Pirates) last year and try his hand at MLB. If Jang Hyun-seok wins a gold medal at the Asian Games and receives military service benefits, the scenario of going to the U.S. will gain even more momentum.
Whenever Jang Hyun-seok meets with the media after his national team selection, he is asked about his future, and his answer is "I haven't decided yet," and today was no different.
Jang Hyun-seok, who recently met with an MLB scout, said, "I can't disclose what I talked about (with the scout) publicly. I'll just say that I'm thinking about it," he said, adding, "I think I'll continue to think about it until right before the application deadline."
When asked, "What percentage of you hope to make the MLB," he laughed and said, "I'm not going to comment.
"If I go to the national team, I want to meet seniors Ko Woo-seok and Moon Dong-joo, who throw hard fastballs, and learn how to do it," Jang said, adding, "If I can participate in the tournament, 고스톱 I want to come down with a strikeout." He also shared his aspirations for the national team.